Inspiring story of two mountaineers – India's first frozen waterfall ascent
How do you see the challenges in your life?? What needs to overcome the fear of failure?? Do you follow your dreams with equal amount of passion?? -When your passion overtakes your fears, you evolve as a real hero.  An inspiring story of Abhijeet Singh an MBA graduate & professional photographer and Pranav Rawat, an apple farmer & avid mountaineer, who got united by their love & passion for mountains. They set out on an exciting & risky adventure – to become the first to complete a frozen waterfall ascent in India. It was an extremely challenging task, never ever tried before in India.
Frozen waterfall ascent is one of these next level climbs which quite literally means scaling ice. It requires skill, special technique and a strong risk-taking attitude to successfully climb a frozen waterfall. But above all it would be passion that act as a fuel to back them up to success. Being a traveler myself, i feel cherished in sharing this particular story of unbelievable courage & determination, which will let you feel that- "Passion never fails".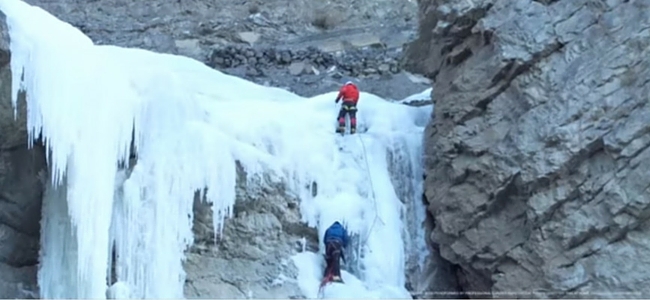 Source: MountainDewIndia
They worked very hard to train themselves, in reaching that ultimate goal. There dream to climb a frozen waterfall, needs them to go through toughest conditions wherein they had to face thin layer of ice which can break anytime, dangerous slippery treads & Blood freezing subzero temperature.  As the famous quote states- "Tough time never last but tough people do", both of them made it possible by winning over all the fears.
On 16th Jan'16, both the heroes made a landmark achievement in the history of Indian mountaineering. They conquered the frozen Shela waterfall -250ft high, located in the Spiti valley of Himachal Pradesh at an altitude of more than 12000 ft.
The entire story, covered in the movie The Fall– a Mountain Dew real heroes series, will let you feel the rush of adrenaline. This truly inspiring tale will certainly energize you a lot.
And yes i too believe the lines- #NaamBantehainRiskSe
Watch this video of first frozen waterfall ascent in India
Source: MountainDewIndia
Comments
comments