Inspiring story of a teacher & his mobile library
When most of us are busy planning our weekends, there is a school teacher taking pain to arrange books for his mobile library. He takes out time every weekday to select the best reads he can arrange for the young readers waiting for him passionately. Here is an inspiring story of Saber Hosseini
"Spread love everywhere you go. Let no one ever come to you without leaving happier – Mother Teresa"
Saber Hosseini, a school teacher in Bamiyan, the capital of Bamyan province of  war-ravaged Afghanistan, ensures to take the best of books in his bicycle to the villages where children are unable to have education. He has taken it as a mission to provide the learning & education, which is denied to them because of the destruction afflicted situation. The province being poorest & most mountainous in the country, forces them to drop the idea of education, as the accessibility to schools is a problem.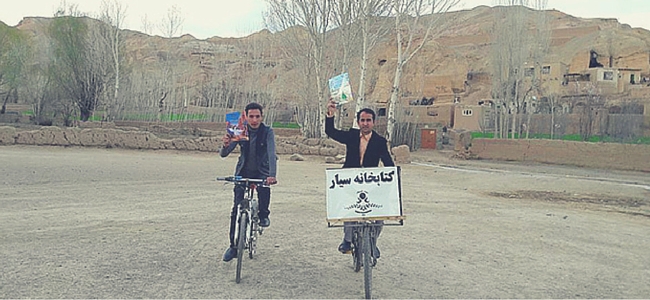 Source: livrosepessoas.com
Hosseini came up with an idea of mobile library, wherein he used his bicycle, which is technically best fit for commuting in terrain, to carry the books. After discussing the idea with his friends. he managed to raise enough money for 200 books, half a year back. Today with the support of people & communities around the world, his library accommodates 3500 books & has got 20 volunteers to work for him.
"We work as a sort of library – every week, we bring kids new books and take back the old ones to distribute to children in other villages," he wrote for France24's The Observers. "Some of the adults have even taken to borrowing our more advanced books." His words reflects the confidence he has on the humanitarian act he follows.
They have simplified versions of books written by Victor Hugo, Jack London, Antoine de Saint-Exupéry, Samad Behrangi (an Iranian writer), and Ferdowsi (an Iranian poet). The group ensures to speak about topics like peace, dangers of drugs etc. whenever they visit a community. Hosseini states that "The Taliban have at times used bicycles in their bomb attacks, so the message I want to convey is that we can replace this violence with culture."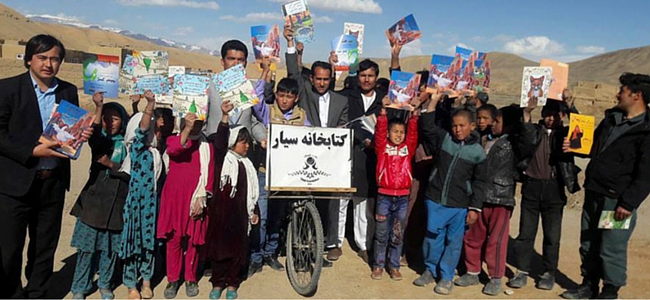 Source: livrosepessoas.com
What is the motivation that drives him ? well in his words, "When I hand the books out to them, I can see their excitement and joy. It is the joy of being able to learn. I am also inspired."
We Salute this one of the few Samaritan, who has taken an initiative to give the ray of hope to those who are actually looking for it.
"Some are born great, some achieve greatness, and some have greatness thrust upon them – William Shakespeare"
Watch Report Here:
Source: The Star Online, observers.france24.com
Comments
comments